Unmanned Aerial Vehicles or Drones are intended for securing perimeters of sensitive sites, state borders, surveillance of car accident scenes etc. UAV can follow a preset map-oriented flightplan or can be operated without flight map and flight mission. Max altitude is 1000 m, endurance time – up to 30 minutes. UAV speed allow taking clear pictures of the scene below. Photocopter UAV is applied with a high-resolution photo camera. Shmel has video camera for real-time surveillance during day time and thermal camera for night operation. Real-time video stream is transmitted down to a tablet computer so that operator can manipulate the drone for better view.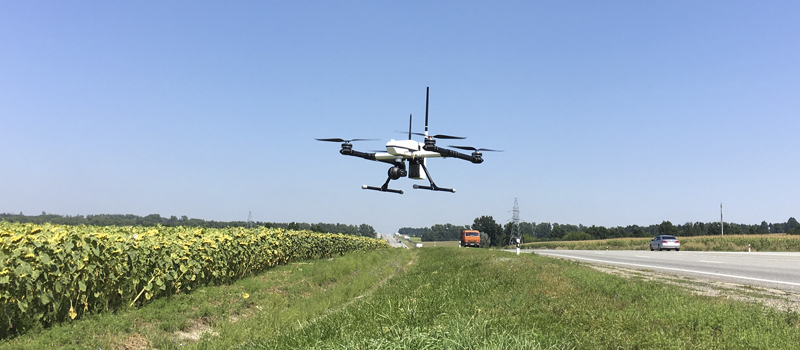 Divisus offers following UAVs for various applications:
Divisus engineering team enabled our UAV to automatically take-off and flight to PIDS sensor alarm area upon alert with return to the take-off point and fully automatical landing. Pictures or video stream is displayed at operator's workstation. This option is necessary to address urgent alarms at sensitive sites. Above 30 meters the UAV is silent and very hard to notice.
Divisus drones is a 100% in-house development. All components from the UAV design to propellers as well as auto pilot and flight software are developed by our designers and engineers. Divisus UAVs are user-friendly and can be piloted by anyone without complicated training.
Intrusion detection and assessment systems are an integral part of any physical protection system. Detection and assessment provide a basis for the initiation of an effective security response. Intrusion detection systems (IDSs) should be designed to facilitate the detection of attempted and actual unauthorized entry into designated areas and should complement the security response by providing the security force with prompt notification of the detected activity from which an assessment can be made and a response initiated. The method(s) of detection and assessment selected for implementation should be robust and be capable of providing the highest level of protection for the specific application. In the design of the detection and assessment aspects of a physical protection system, various methodologies should be incorporated to provide a fully integrated detection capability. The integration of various detection and assessment methodologies not only contributes to a superior detection and assessment capability, but also provides multiple overlapping layers that support each other if one method fails.